Plain White wallpaper
$94.00
The white wallpaper will block out coloured walls, dirty walls and mirrors. Or paint a mural on a wall and then remove it cleanly! Great for projects with children.  Choose your wall height and we'll supply 2x 65cm wide panels by your chosen wall height. Or choose an A4 sample to see the colour in your room.
Our removable, fabric wallpaper is shipped from Melbourne in 3-6 business days. Printed using water-based inks with a removable adhesive on the back for a simple, peel-and-stick application for dark, flat walls or mirrors – not for use on textured surfaces such as brick or render. Landlord friendly removability.
Description
Reviews (0)
Removable wallpaper FAQs
How to apply
Product Warranty
Description
Plain White Wallpaper Details:
Want to turn that badly coloured, grubby or mirrored wall into a simple white colour? Need wall stickers for painting perhaps? Our Plain White wallpaper is the answer!  A fabric wallpaper with an adhesive on the back for a simple peel-and-stick application for walls. Read more about Plain White wallpaper on our blog here! You can use our white wallpaper as paintable wallpaper!
Contents: two panels of wallpaper 65cm wide (130cm wide in total) by the height you select above.
Colour: This is white but if you want a colour, please see our Plain Colour wallpaper here.
Application: Our removable white wallpaper is quick and easy to install by anyone.
How to apply Plain Colour Wallpaper?
The Plain White Wallpaper will stick to a range of internal surfaces. It will suit all painted flat surfaces and textured surfaces, like rendered and brick walls. You will be asked your wall type at checkout. Full instructions on how to apply our wallpaper are included with your product. You do not need any special skills to apply our wallpaper. However, the application of our wallpaper will require your time. For more information, see the "Removable wallpaper FAQs" tab below.
How much wallpaper to order
You will be supplied with 2x 65cm wide panels by your chosen wall height. To work out how many wallpaper panels you need to order, divide your wall width by 130cm and round this number up to the nearest whole number to work out how many units to order. We offer our panels in standard wall heights; 250cm high, 280cm high, 310cm high, or 350cm high. Choose the one that matches your wall height. The excess can be trimmed away easily.
When you buy wallpapers it is a little daunting, we get it. But please be assured that our removable wallpaper will be a lovely surprise.
Material: Our wallpaper is made of a fabric with a gum-like adhesive on the back. It is lightweight with a matte finish that looks just like traditional wallpaper.
Appearance: The finish of our removable wallpaper is matte with a very small weave. The edges of each panel butt together for a seamless appearance.
Use: our removable wallpaper is intended for internal vertical services and is perfect as an alternative to traditional wallpaper as it can be updated and removed easily. Our product is perfect for renters and those wanting an instant update to any room or space.
All wall types: Our removable wallpaper product suits all wall types and most flat surfaces, and all types of wall paints. It will wrap around corners.
Removable: The removable wallpaper product will continue to look good for years and years and when it's time for an update or to move home, it peels off the wall without causing any damage, or leaving any residue. The adhesive is more like a gum than a glue, that does not harden over time. We call it Landlord friendly because is will not damage wall surfaces.
If you still have concerns about our product's removability, please get a free sample here.
Design ideas: Our wallpaper is perfect for creating a feature wall. The best feature wall is the one in the room that has the least number of windows and doors.
If you know which wallpaper design you want, you can order a Wallpaper Sample – select from the Wall Height dropdown menu on each wallpaper design.
Or if choosing colours is where you are getting stuck, please order a Colour Chart here.
How much to order: Start by measuring your wall. Enter the wall width into the calculator on the right hand side on the product page, to work out how many units to buy. Our panels are 65cm wide so divide your wall width in centimetres by 65cm (our panel width) to work out how many units to purchase, then select your wall height.
Please be aware that due to our printing process, future panels purchased may not exactly match. We suggest you order what you need at this time.
Shipping: Your removable wallpaper will arrive rolled up in a tube with instructions included. The panels are numbered on the back and you hang each panel next to each other.
Installation: Many our of customers are concerned they won't be able to put up the wallpaper themselves. We assure you that anyone can put up our wallpaper. You don't need any skills, just time, a step ladder and a sharp Stanley knife. It is easy to install yourself because it is repositionable so once the panels are in place, any bubbles just smooth out with your hand. The fabric won't tear or stretch. The panels butt up against each other, creating a seamless finish. See our installation instructions below.
However we understand the needs of businesses, specifiers and busy people, so we do have a list of preferrer installers around Australia.
Movable: the product is movable so during application, if it is not in the right spot it can be peeled off and reapplied. In fact it can be moved over and over depending on how dust-free the surfaces are.
Storage: Keep the backing paper and the tube, and it can actually be stored and reapplied to another wall or at another time.
Cleaning: Our removable wallpaper is wipeable, we advise against washing it.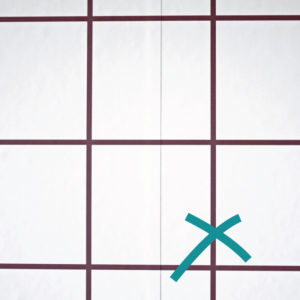 Wallpaper Application Instructions (these will be included with your wallpaper)
Before you start…
Newly painted walls need 4 weeks to outgas before application of wallpaper or murals.
Avoid rubbing the product or exposing to solvents or water.
EQUIPMENT
You'll need a step ladder, a sharp Stanley knife (snap for a new blade) and possibly a second pair of hands. Make sure your walls are clean and dust free, and wipe the skirting boards too. Remove any picture hooks, tacks or blue tack, and any switch plates. Make sure your hands are clean.
GETTING STARTED
Notice on the back corner of the panels the numbering -you'll be putting up panel #1 on the left then applying them to the right. (For left-handers just start at the highest number and work from right to left.) Lay the first panel design-down on a clean, flat surface. Peel the top edge back 30cm or so, and the fold the backing paper back so it stays out of the way.
REMOVE THE BACKING PAPER FROM THE WALLPAPER OR MURAL PANELS
Now you're going to temporarily stick the panel to the wall so you can remove the backing paper safely. Stick it to the wall under the cornice (don't worry about placement yet) and stick it to the wall. Start pulling the backing paper down from behind (evenly across to avoid buckling), and stick the wallpaper to the wall as you go – just enough to keep it stuck. Prevent the sticky sides of the wallpaper from sticking together.
STICK THE WALLPAPER OR MURAL PANELS
Once the backing paper is removed from the top of the panel you can place it properly. Placing the first panel is the trickiest so take your time. From the step ladder, pull the entire sheet back off the wall to line it up under the cornice. Then let the panel fall naturally. If the side of the wall is not covered all the way to the corner, allow an extra centimetre across the corner – this can be trimmed off at the end. Pull it off again if you?re not happy, and reapply. Once you are happy with how it is placed, smooth it from the top in a down-and-out motion to ?sweep? out any air pockets.
DEALING WITH WRINKLES & BUBBLES
Large bubbles should just smooth out but if they get trapped or you get a crease, just peel back the panel to release them rather than rubbing the print.
MATCHING THE WALLPAPER ART DESIGN
For the next panel you need to repeat the above to get it safely on the wall and off the backing paper. For the best result, apply the panel temporarily 10cm below the first panel. Now step down and, at eye level, match up the design and butt the panels into each other (no overlapping is required). Line up the design up and down the join and stick it to the wall but only enough to hold the panel flat to the wall – you can smooth it completely to the wall once the entire join is matched.
TRIMMING THE WALLPAPER
Only once all the panels are adhered and aligned can you trim off the excess wallpaper. Run your sharp Stanley knife blade along the sides and bottom. Carefully trim around power points then replace the plates.
MOVING THE WALLPAPER PANELS
If you want to move the wallpaper to a different wall, you need to apply it to the backing paper while vertical to avoid debris getting on the sticky side. Stick a panel of the backing paper on the wall next to the panel you want to remove – stick at the top and bottom with masking tape or similar. Peel the panel of wallpaper off the wall and move it across and stick it onto the backing paper, getting it lined up as best as possible. It will help to have a second pair of hands to guide the bottom of the panel. Once stuck, roll up the panel and protect any exposed edges – wrap in bubble wrap.
We have a 100% happiness guarantee. This means that if goods are faulty, have been wrongly described, are different from a sample shown, or do not do what they are supposed to do, you can choose between a refund, exchange or credit. If you simply change your mind, we will exchange your design if you contact us within 30 days of receiving your order. Custom products that have no quality-related issues cannot be returned or refunded. Colors may vary on-screen to products received.
Due to our manufacturing process, products purchased at different times may not match in color.