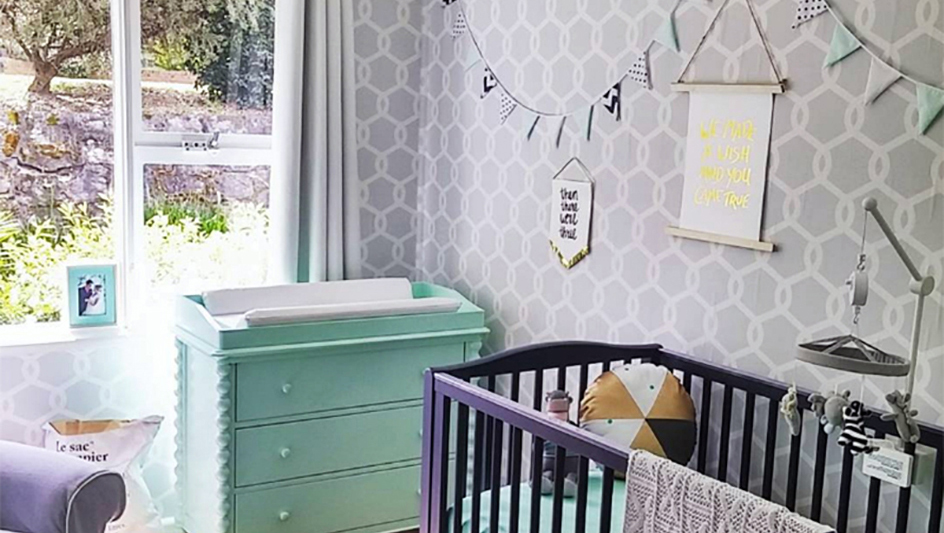 Nursery wallpaper is a great way to create a loving, serene bedroom for your little one. However, because it is removable and Landlord friendly, it makes decorating fun and exciting.
Be bold for instance, and choose a feature wallpaper to be the hero of the room. Or choose a simple design in a new-season colour to create a backdrop to other features in the room. In other words, let nursery wallpaper be the hero or a layer in the Nursery.
We have many designs that will suit a baby boy Nursery, a baby girl Nursery, and many gender neutral Nursery designs.  Woodland and Floral wallpapers are very popular right now. And we have the creations of Guest Designers Tara Dixon and Kristin Krauskopf. They have created beautiful designs exclusive only to The Wall Sticker Company.
Many of our removable Nursery wallpapers can be coloured by you. Tone them in with any current decor or tones in the room. Just find the wallpaper designs you love and you can purchase A4 wallpaper samples for a redeemable cost.  Or grab a Colour Chart Sample so you can see how the colours work in the room with it's lighting.  This is recommended if you are considering grey as these come in many tones.
A Nursery with wallpaper can create a feature wall behind a cot or bed, or any wall to inject instant impact.  And for shared spaces, Nursery wallpaper can be used to create divisions between areas and beds.
The big question is….Can I apply it myself?  The answer is a big Yes!  The backing paper peels off the back and then it sticks gently to the wall.  If it's in the wrong place, you can peel it off and reapply over and over!