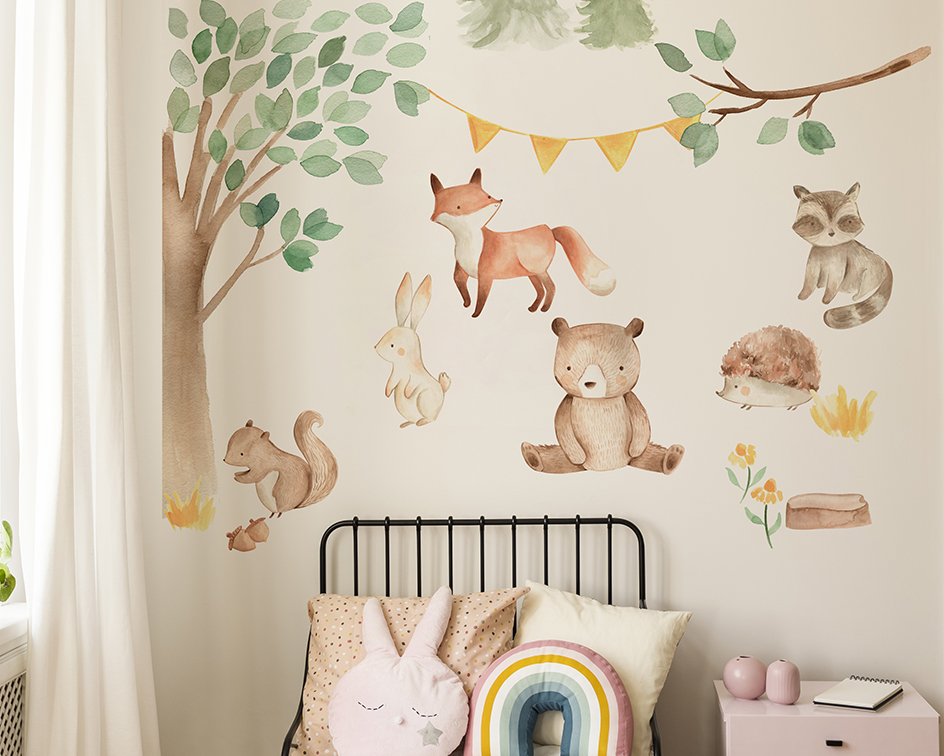 Tree Wall Stickers & Murals – Easy To Apply, 100% Removable, Many Styles & Customizable
Tree wall stickers are a natural and timeless wall feature in any room in your home.
Create a serene nursery or child's bedroom. Tree decals have parts that can be arranged by you. Children can be involved in the design process! Tree wall sticker designs like the Woodland Friends and the Enchanted Tree different colours and animals, thereby becoming a terrific learning tool too.
The Family Tree wall sticker and the Tree Silhouette in a family space are a beautiful way to represent your family.  You can even stock photos to the decals thereby creating a visual family tree.
Our removable wallpapers and wall mural that feature trees create a stunning full wall feature.  The Forest Wallpaper Mural really brings the outdoors in and would suit a teen bedroom or living area or home study.
The Wall Sticker Company products are made from a high-quality, removable fabric that will not leave any marks or damage the wall on removal.  Therefore you can decorate your walls with confidence.  They can be stored and moved to another wall too.
Our wall stickers and removable wallpapers have the same beautiful, fabric look with the self adhesive on the back.  And our designs are cut right to the edge so there's no white border. For intricate designs, we supply with a layer over the top to make application quick and perfect.
We print to order so our designs are fully customizable. However, if you are unable to find anything suitable amongst our range, we offer custom-designed wall decals, wallpaper, murals so you can create your perfect space.
Fabric wall stickers & wallpapers
Removable from all wall types