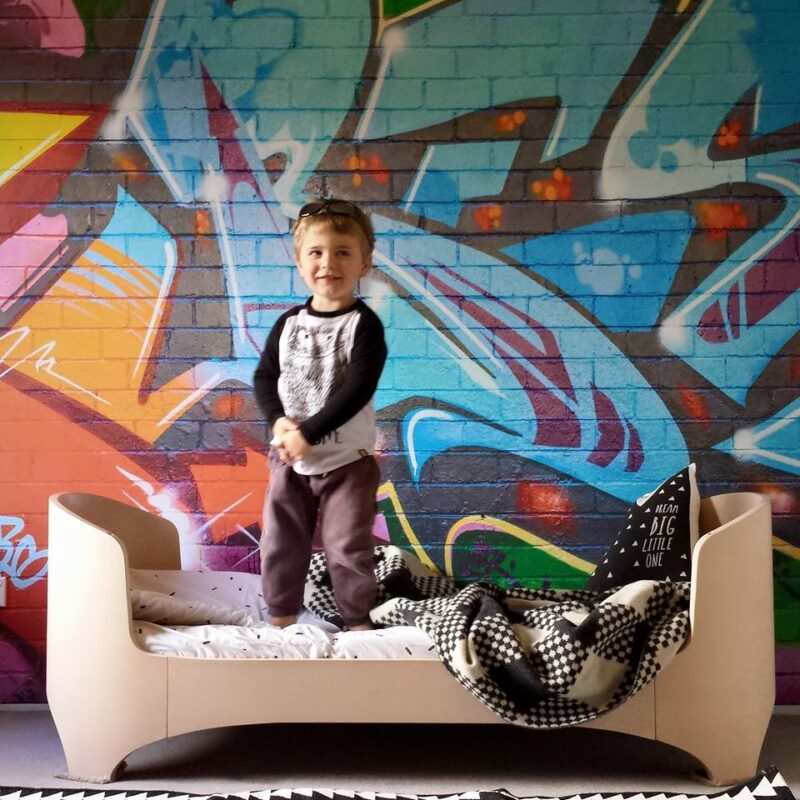 Graffiti wall mural
$58 /m2
Great in an office, living space or even a kids or teens bedroom, the removable graffiti wall mural is a real photograph – colourful and cool! Enter your wall dimensions for a price. Place your order and we'll send you a proof.Landlord friendly, fabric wallpaper with an adhesive on the back for a simple peel-and-stick application for walls.
Description
Reviews (0)
Removable wall mural FAQs
How to apply
Product Warranty
When you buy graffiti wall decals, it is a little daunting, we get it. But please be assured that our removable wallpaper will be a lovely surprise.
Material: Our graffiti wall stickers are made of a fabric with a gum-like adhesive on the back. It is lightweight with a matte finish that looks just like traditional wallpaper.
Appearance: The finish of our removable graffiti wall paper is matte with a very small weave. The edges of each panel butt together for a seamless appearance.
Use: our removable wallpaper is intended for internal vertical services and is perfect as an alternative to traditional wallpaper as it can be updated and removed easily. Our product is perfect for renters and those wanting an instant update to any room or space.
All wall types: Our removable wallpaper product suits all wall types and most flat surfaces, and all types of wall paints. It will wrap around corners.
Removable: The removable wallpaper product will continue to look good for years and years and when it's time for an update or to move home, it peels off the wall without causing any damage, or leaving any residue. The adhesive is more like a gum than a glue, that does not harden over time. We call it Landlord friendly because is will not damage wall surfaces.
If you still have concerns about our product's removability, please get a free sample here.
Design ideas: Our wallpaper is perfect for creating a feature wall. The best feature wall is the one in the room that has the least number of windows and doors.
If you know which wallpaper design you want, you can order a Wallpaper Sample – select from the Wall Height dropdown menu on each wallpaper design.
Or if choosing colours is where you are getting stuck, please order a Colour Chart here.
How much to order: Start by measuring your wall. Enter the wall width into the calculator on the right hand side on the product page, to work out how many units to buy. Our panels are 65cm wide so divide your wall width in centimetres by 65cm (our panel width) to work out how many units to purchase, then select your wall height.
Please be aware that due to our printing process, future panels purchased may not exactly match. We suggest you order what you need at this time.
Shipping: Your removable wallpaper will arrive rolled up in a tube with instructions included. The panels are numbered on the back and you hang each panel next to each other.
Installation: Many our of customers are concerned they won't be able to put up the wallpaper themselves. We assure you that anyone can put up our wallpaper. You don't need any skills, just time, a step ladder and a sharp Stanley knife. It is easy to install yourself because it is repositionable so once the panels are in place, any bubbles just smooth out with your hand. The fabric won't tear or stretch. The panels butt up against each other, creating a seamless finish. See our installation instructions below.
However we understand the needs of businesses, specifiers and busy people, so we do have a list of preferrer installers around Australia.
Movable: the product is movable so during application, if it is not in the right spot it can be peeled off and reapplied. In fact it can be moved over and over depending on how dust-free the surfaces are.
Storage: Keep the backing paper and the tube, and it can actually be stored and reapplied to another wall or at another time.
Cleaning: Our removable wallpaper is wipeable, we advise against washing it.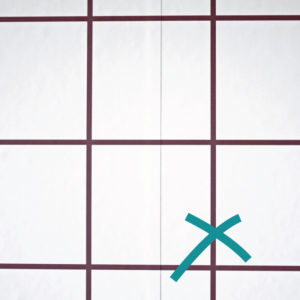 These instructions will be included with your product
Equipment –
A step ladder, a stanley knife and maybe a second pair of hands. Make sure your hands are clean and dry. Inspect your wall and remove any picture hooks and any switch plates.
Start From the Left –
Start hanging panels on the left side of the wall, either according to the number written on the back, or just one by one. Take your time on this first panel, making sure it is level at the top. If the wall is adjoining another wall, you may need to slightly overhang Panel 1 on the left side and trim later, if the wall is not perfectly square.
Prepare To Stick –
Lay the panel face down on a flat surface (somewhere clean) and peel back about 30cm of backing paper and fold it back sharply (so it stays out of the wa). Do not let any debris stick to the adhesive.
Stick –
Line up the top edge of the wallpaper with the top of the wall and then stick it to the wall. If it is not square, peel it off and reapply.
Remove The Backing Paper –
Once in place, stick it to the wall. Carefully pull the backing paper down from behind the panel in stages, in a slow and even fashion. Let the wallpaper fall naturally into place, smoothing it to the wall with your hand in a down and outwards motion to remove any bubbles.
Wrinkles and Bubbles –
All bubbles should just smooth out. If they don't or a crease occurs, just peel up the panel and reapply rather than rubbing the print.
Additional Panels –
Align the next panel to the first panel, and remove the backing paper and stick to the wall as per the previous instructions.
If the design is not lining up, once the backing paper is removed from the panel, pull it away from the wall, drop it down 10cm from the top of the wall, align at eye level, smooth it onto the wall from the centre back to the top and to the bottom. Just keep the back of the panel from adhering to itself.
Trimming –
When all the panels have been adhered, use a sharp stanley knife to remove any excess at the base of the wall. Carefully trim around the power points and light switches after pulling the plate off if necessary.
Keep Your Backing Paper and Tube
In case you decide to relocate your wallpaper, or move home or office, keep the backing paper and the tube to store your wallpaper in.
To reapply it to the backing paper without collecting debris on the back, you need to transfer it to the backing paper while vertical. Stick the backing paper to the wall with sticky tape (at the top and bottom) next to the panel you want to remove. Peel the whole wallpaper panel off the wall, move it across and place it onto the backing paper, getting it as lined up at the top and sides as possible. Just roll up the panel and carefully place it in the tube and protect the ends against damage with some bubble wrap. """
We have a 100% happiness guarantee. This means that if goods are faulty, have been wrongly described, are different from a sample shown, or do not do what they are supposed to do, you can choose between a refund, exchange or credit. If you simply change your mind, we will exchange your design if you contact us within 30 days of receiving your order. Custom products that have no quality-related issues cannot be returned or refunded. Colours may vary on-screen to products received.
Due to our manufacturing process, products purchased at different times may not match in colour.
You may also like…
Detailed World Map mural

A stunning feature for a child's bedroom or a living or office space, this geographical Detailed World Map has great detail. Enter your wall dimensions for a price. Place your…

Alphabet Wall Decals

Choose up to 10 letters to create customised names, quotes, or lyrics. Choose your letter size, colours and the font. Australian made and landlord friendly. Choose your own colours. (Oliver…

World Map Poster

The removable World Map Poster is a simple decorating item for any room, but also a great educational tool. Choose from a traditional Text Book colourway or an Antique style…