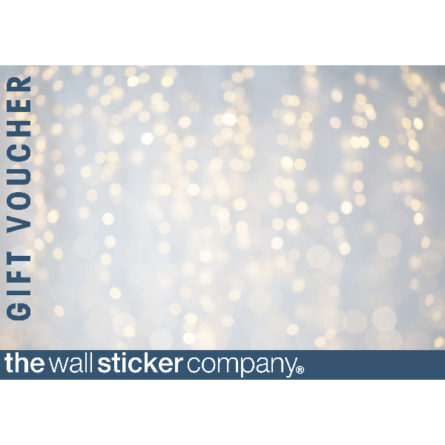 Gift Certificate
Purchase a Gift Certificate for a lovely, or last minute gift idea! Select the value on this page, and your Voucher style on the final Checkout page.
Either print out the voucher and pop it in a card, or send your recipient an email voucher. Choose the design and the value. Valid for 12 months.
You can choose your Voucher style at Checkout
Description
Gift Certificate Terms and Conditions
Product Description
Get a Gift Certificate from The Wall Sticker Company – the perfect gift idea for special occasions. Specify the value of your gift and a redeemable voucher will be generated as a PDF file for either printing or sending direct to your nominated recipient. The voucher can be used as credit store-wide, allowing the recipient to choose from our full range of designs.
Select the value here, then choose the style at the final Checkout.
Gift Certificates are non-refundable.
Gift Certificates expire after 12 months from the date of issue.
The Wall Sticker Company accepts no responsibility for stolen or fraudulent Gift Certificates. It is the gift card holder'åªs responsibility to ensure the safe keeping of the Gift Certificates and its code.
Replacement will be only to the extent of unused gift certificates.
The Wall Sticker Company Gift accepts no responsibility for the loss of any gift certificates due to an incorrect email address entered.
If the recipient does not receive the email Gift Certificate, please contact us to send the card to an alternative email address.