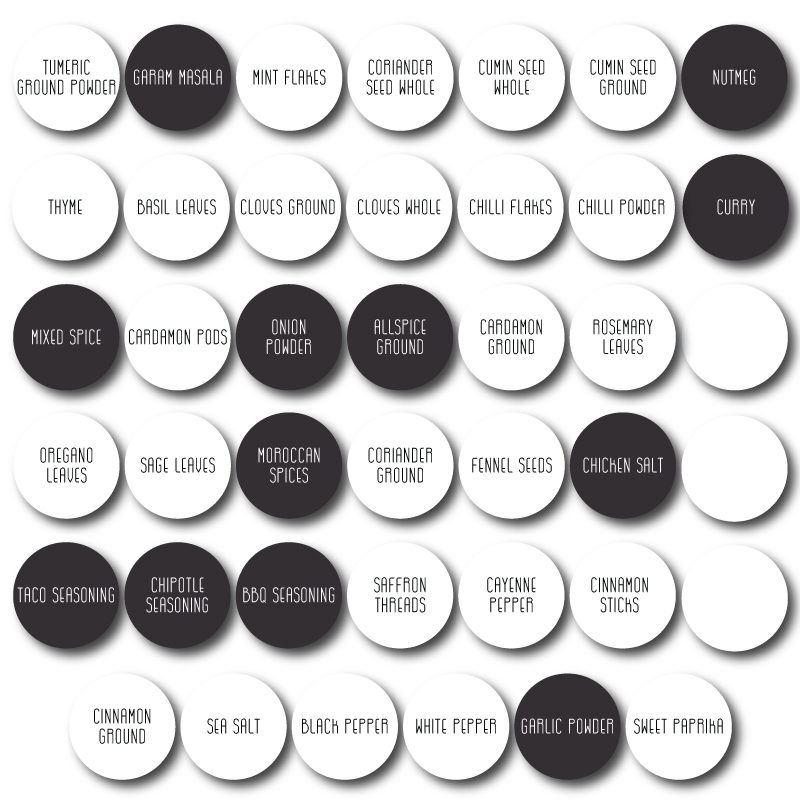 Spice Labels
$18.00
Spice Labels save you time looking for the right jar and create a lovely, organised look!  These 41 labels at 3cm for stardard jar sizes, are easy to apply and washable.
These are vinyl stickers with a strong adhesive suitable for hard surfaces like glass and plastic.
Description
Reviews (0)
How to apply
Product Warranty
Description
These Spice Labels make finding the right spice or herb really, really easy. It's a simple idea but it takes the time out of seeing what you need and what you want. 41 labels in common ingredients.
Material: Vinyl stickers (not for walls) with a stronger adhesive for tupperware, glass, plastic – any hard surface.
Contents: 38 printed spice labels and 3 blank ones.
Style: The self adhesive vinyl decals are round and will fit standard caps and jars.
Colours: choose from all white labels, all black labels (expect 3 spare ones which are white), or white and black where mixes are in black.
Size: 3cm diameter
Ideas: See some of our favourite organising ideas on our Pinterest Board.
Application: Simple peel and stick application. Washable.
Herbs & spices labels Tumeric ground powder, mint flakes, coriander seed whole, cumin seed whole, cumin seed ground, thyme, basil leaves, cloves whole, chilli flakes, chilli powder, cardamon pods, cardomon ground, onion powder, rosemary leaves, oregano leaves, sage leaves, fennel seeds, coriander ground, saffron threads, cayenne pepper, cinnamon sticks, cinnamon ground, sea salt, back pepper, white pepper, sweet paprika, nutmeg and dill
Herb & spice blends Garam masala, all spice ground, mixed spice, taco seasoning, chipolte seasoning, chicken salt, bbq seasoning, curry, garlic powder, onion powder, moroccan spices
How to Apply your Name Labels
1. Plan where you will put your Name Labels as they are not repositionable.
2. Peel the decals from the backing & smooth to the flat surface.
3. To remove, peel the stickers off. If any glue residue is left behind, we suggest a little Eucalyptus oil to aid removal.
We have a 100% happiness guarantee. This means that if goods are faulty, have been wrongly described, are different from a sample shown, or do not do what they are supposed to do, you can choose between a refund, exchange or credit. If you simply change your mind, we will exchange your design if you contact us within 30 days of receiving your order. Custom products that have no quality-related issues cannot be returned or refunded. Colours may vary on-screen to products received.
Due to our manufacturing process, products purchased at different times may not match in colour.