Frozen pack
$84.00 – $104.00
"Let it go" from the movie Frozen is a gorgeous quote for a girls bedroom. Arrange the quote and snowflakes, and choose from 8 colours for the Frozen Pack.
Our wall stickers are Australian-made and printed with water-based inks on a toxin-free fabric with a removable, gum-like adhesive that won't damage your wall on removal!
Description
Reviews (0)
Removable wall sticker FAQs
How to apply
Product Warranty
Description
The Frozen pack wall decal design is a magical and inspiring styling piece for a girl's bedroom.
Material: Matte fabric wall stickers with a peel and stick, removable adhesive
Contents: "Let it go" in cut out handwriting, in a continuous line – you can arrange as you like, and snowflakes
Size: Small: text 38cm high x 1.28cm long, plus 19 snowflakes 9-25cm; large: text 55cm high x 1.9m long, plus 19 snowflakes, 9-25cm
Colours: Available in colour options shown, or choose your own colour from our Colour Chart.
Application: Intricate designs can be applied quickly and perfectly. See below for more details
Design idea: Enhance the quote with some Snowflakes to decorate around the room.
Our removable wall stickers are the best we have seen available on the market. Here are the reasons:
All wall types: Our product suits all wall types; plasterboard, brick, concrete and even rendered.
Removable: The self adhesive on the back will not harden over time, so 5 or 10 years later, you can peel them off and they won't peel any paint off or leave any residue.
Appearance: The finish of our wall stickers is a high end-looking fabric with a small weave and a matte finish, just gorgeous! And adjoining pieces can butt up against each other, creating a seamless finish.
Durable: Our wall stickers are not made of vinyl so they won't peel, curl, fall off the wall, reflect the light, shrink, tear or melt. They will look beautiful for years.
Installation: So easy! You simply peel and stick for decals, or for intricate designs, the application tape over the top ensure you can position the pieces perfectly. Instructions are included, or you can call us if you have any difficulty. Repositionable the pieces easily, and any bubbles just smooth out with your hand. The fabric won't tear or stretch. And any pieces that need joining just butt up against each other, creating a seamless finish. They will curve around corners and can be trimmed around power points and fixtures with a sharp stanley knife if necessary.
Movable: Keep the backing paper and they can be moved to another wall, room or home. If you lose your backing paper you can temporarily stick them to another wall or door – just keep them vertical.
Free sample: If you have any concerns, please get a free sample to test it out before you buy.
How to Apply your intricate Decals
1. Plan the position of the whole design first. You can cut between parts of the design to make it easier to place in sections.
2. Scratch the designs through the tape layer with your nails and then peel back, ensuring all parts are picked up.
3. You need to place the pieces in the correct position the first time. Once adhered, smooth it to the wall.
4. Peel off the tape layer leaving the designs on the wall.
5. Refer to the Cleaning Instructions to care for and store your wall stickers.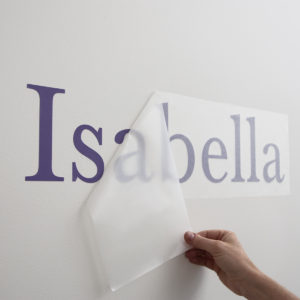 We have a 100% happiness guarantee. This means that if goods are faulty, have been wrongly described, are different from a sample shown, or do not do what they are supposed to do, you can choose between a refund, exchange or credit. If you simply change your mind, we will exchange your design if you contact us within 30 days of receiving your order. Custom products that have no quality-related issues cannot be returned or refunded. Colours may vary on-screen to products received.
Due to our manufacturing process, products purchased at different times may not match in colour.