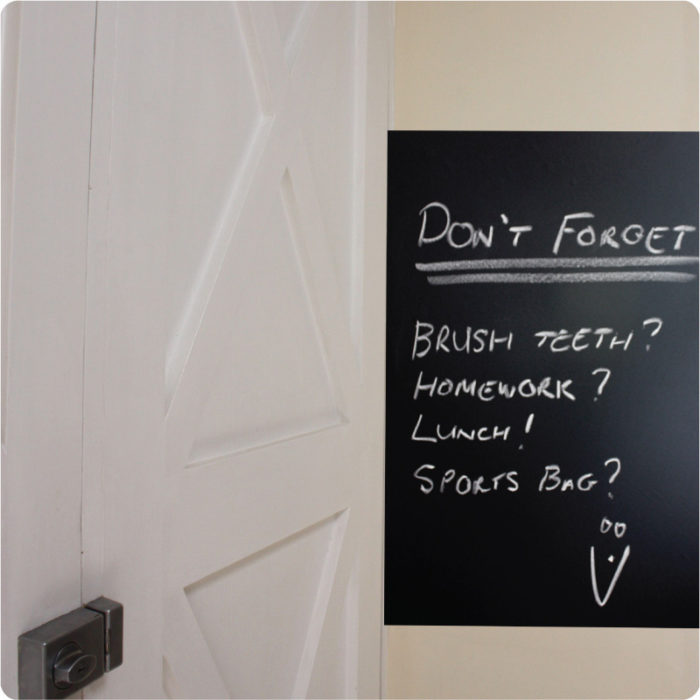 Chalkboard Organise
$29.00
The chalkboard organise is perfect for a shopping list, weekly plan or reminders. Handy in the kitchen, living space or utility areas. One use only decal.
Suitable for use with both traditional dry chalk and liquid chalk pens.
Description
Reviews (0)
Chalkboard wall sticker FAQs
How to apply
Product Warranty
Description
The Chalkboard Organise wall sticker is a cool and functional design for anywhere in your home or office.
Material: Chalkboard vinyl which is easily applied, one use only
Contents: 1 piece of chalkboard
Size: 68 x 35cm. Contact Us for custom sizing.
Chalk: The Chalkboard Organise is suitable for use with both traditional dry chalk and liquid chalk pens
Application: Once-only application, requires special removal, see below for more details
Design idea: Put one in the children's bedroom or near the front door, and put the other in your kitchen to help organise shopping lists, cooking task and things to do! This size fits in small areas like on your pantry door, other cupboard doors, even your fridge – can be stuck to glass and plastic surfaces.
Cleaning:  Clean with a wet sponge or cloth.
Our chalkboard wall stickers, are different to all our other products. Here are the reasons:
Material: They are made of a vinyl so they are one-use only, and will stretch on removal.
All wall types: The chalkboard product suits all wall types; plasterboard, brick, concrete and even rendered.
Removal: The adhesive is different and may harden over time and may damage the wall if the special removal instructions are not followed (included with your product).
Appearance: The finish of our chalkboard wall stickers is a nice black colour, with a smooth finish.
Use: Can be used with traditional chalk and liquid chalk.
Cleaning: The surface can be wiped clean with a damp sponge.
Installation: So easy! You simply peel and stick. As it is a one use only product, make sure you know exactly where you want it before you stick it. Full instructions are included.
How to Apply your Chalkboard Sticker
1. Plan the position of the design first as it cannot be moved. Peel the design off the backing paper.
2. Place the design on the wall and smooth into place.
3. Wipe clean with a damp cloth.
4. To remove your chalkboard wall sticker, heat the design with a hair dryer in sections to remove it.
Note: Chalkboard products may cause paint to come off walls even if instructions are followed. We suggest applying to hard surfaces if you are concerned about the state of your wall.
We have a 100% happiness guarantee. This means that if goods are faulty, have been wrongly described, are different from a sample shown, or do not do what they are supposed to do, you can choose between a refund, exchange or credit. If you simply change your mind, we will exchange your design if you contact us within 30 days of receiving your order. Custom products that have no quality-related issues cannot be returned or refunded. Colours may vary on-screen to products received.
Due to our manufacturing process, products purchased at different times may not match in colour.