Quick Facts about our Custom Design Service
Jen Menz
We can create various one-off designs like a custom wall decal (cut out shapes), business logos, cut out text (your favourite quote for example), or custom wall murals and wallpaper.
They are all supplied on the same, high quality fabric ensuring a high-end look and Landlord approved friendliness!
If you know the dimensions of what you want (this is easy for wall murals but can be tricky for text), you can get an instant quote by choosing what type of product you want: a custom wall decal (cut out shape or text), a custom wall mural, or a custom removable wallpaper.
Once you've place your order, we set up your design and send a first proof within 2 days – we need your sign-off on your design before we print it.
This design process occurs via email, and we will make as many adjustments as you need until you are happy.
Once you sign off, we need 6 business days to print and prepare it for postage, plus shipping time.  Sometimes we can do this quicker, and sometimes we have delays because printing something for the first time is not always easy.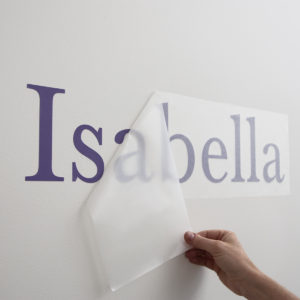 Your product will sent rolled up in a tube with instructions included. If your design is intricate, it will come with a layer over the top to make placement quick and perfect. See here.
Custom wallpapers and murals will be supplied in 65cm wide panels by your wall height, and numbered on the back to make installation achievable by one person with minimal confusion.
Contact Us if you need help with  your custom order.
For an instant quote, click on custom wall decal (cut out shape or text), custom wall mural, or custom removable wallpaper.